'Urine-soaked' patients at Bupa Crawley care home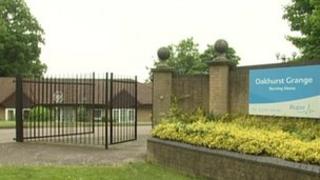 Elderly care home residents in Crawley were left soaked to the chest in urine, a health watchdog report has revealed.
The Care Quality Commission (CQC) found a series of failings including staff not supporting high dependency patients at Oakhurst Grange.
Bupa, which runs the home in Goffs Park Road, said it was now being shut down.
In a separate development, Sussex Police said officers were investigating an alleged assault on a resident by a staff member.
'Too much fluid'
Inspectors who carried out an unannounced inspection in April found one resident whose bed linen was heavily soiled in faeces, with a catheter bag that was "absolutely full".
One relative said a family member was found in bed, soaked up to their chest in urine.
Residents who were classed as high dependency and who should have been moved were not moved for hours and were not given enough fluids.
Another resident with chronic renal failure, who should have been on restricted fluid intake, was given twice as much as was needed.
The report said a number of patients had "do not attempt resuscitation" (DNAR) forms in place, but some staff were were not aware of the DNAR status of people they cared for.
An incident in which a nurse did not start resuscitation for a person who did not have a DNAR form led to a safeguarding investigation that substantiated abuse, inspectors said.
Bupa's operations director Richard Jackson said: "We worked extremely hard to improve the home including making management changes, putting new care plans in place, bringing in extra support and staff across the home, carrying out even more training and working to recruit new permanent staff.
"These improvements had been recognised by the positive comments we received from residents and their families."
But he said Bupa had not been able to make enough changes to meet its own expectations and those of residents and partners, including the CQC, and said the home was being closed.
On Wednesday, Sussex police said they were investigating an allegation received in March of assault on a resident made against a staff member at the home.
A statement from the force said: "The staff member has been interviewed under caution and the investigation continues. We have no other current investigations at the home."