Timeline: Teacher Jeremy Forrest's flirtatious messages led to sex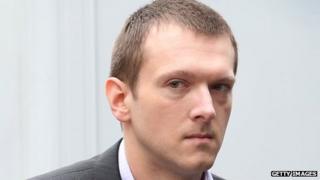 Maths teacher Jeremy Forrest, 30, has been jailed for five and a half years for abducting and having sex with a 15-year-old pupil.
Forrest, who was married and taught at Bishop Bell C of E School in Eastbourne, was found guilty of abducting the pupil following a trial at Lewes Crown Court.
He did not initially face sex offence charges for reasons linked to his extradition from France, but admitted them in court just before sentencing.
At the height of their relationship, he and the 15-year-old girl fled the UK on a cross-Channel ferry to Calais.
They spent more than seven days on the run, leading to an extensive search by the authorities, before eventually being tracked down in Bordeaux.
This is a timeline of events.
August 2011
Forrest married his wife, Emily, on 8 August after being in a relationship with her since June 2007.
He had been teaching maths at the school in Eastbourne since 2009. The couple lived in Ringmer.
According to his wife, their relationship became very strained in the autumn and, over the course of the following year, he became increasingly secretive and distant from her.
February 2012
During the spring half-term holiday, Forrest was one of six teachers who supervised a school trip to Los Angeles.
The pupil, who was 14 at the time, was one of the 50 pupils who went.
Their relationship developed after they held hands on the plane journey back to the UK.
She was a rather nervous flyer, and Forrest said it was to help calm her during the flight.
Giving evidence during his trial at Lewes Crown Court, the schoolgirl said she began to confide in Forrest during the trip, and it "wasn't hand-holding, it was squeezing hands" and rather than being affectionate, it was "more caring".
This was seen by others in the party and, aware of the gossip, Forrest was advised by the head of upper school on 24 February to distance himself from the girl.
Forrest was also spoken to by the assistant head with responsibilities for child protection matters.
In addition, the school rang the girl's mother, who said she was aware her daughter had a crush on Forrest.
March 2012
As well as his job as a teacher, Forrest was a keen musician, writing and performing songs and playing the guitar.
The teenage pupil, like others at the school, began to follow Forrest on his music-based Twitter account.
She started sending messages to him, which he replied to. The messages gradually became more flirtatious, as well as being open to be viewed by other Twitter users.
On 30 March, the deputy head teacher of Bishop Bell C of E School had a formal meeting with Forrest after concerns were raised by staff that he was showing preferential treatment towards the pupil.
Forrest denied anything untoward was happening and was again given firm advice about not encouraging the girl.
Shortly after, the school broke up for the Easter holidays and Jeremy and Emily Forrest went on holiday to Thailand.
May 2012
On 23 May, Forrest and the pupil were spoken to individually by the assistant head with responsibilities for child protection matters, who had heard about the Twitter messages they were sending each other.
Both denied anything untoward was going on.
Following this, Forrest gave the girl his private mobile telephone number.
The schoolgirl and the teacher kissed for the first time, in his classroom, while she was still aged 14.
Jurors at the trial of Forrest heard how she would attend school early so she could meet him.
June 2012
The schoolgirl celebrated her 15th birthday and it was around this time the intimate contact between the couple turned into a full sexual relationship.
The trial heard they had sex in Forrest's house, at a hotel and in his car.
The girl told jurors she had been experiencing personal problems in the months leading up to the relationship with Forrest.
July 2012
Forrest was challenged by the assistant head with responsibilities for child protection matters, following further rumours, which he denied.
After this, towards the end of term, he was off work sick for a week.
At around this time, he rang the schoolgirl's mother, telling her he was worried about the rumours and the effect that they might have on his career.
When the school broke up for the summer holidays the relationship between the pair continued.
September 2012
On 14 September, police were informed by a third party Forrest was in an inappropriate relationship with the girl.
Four days later, a joint strategy meeting was held between police, children and education services and the school.
On 19 September, a police officer and a social worker went to the teenager's home and spoke to her mother.
The girl was asked to come home, where she was asked by the officer about her contact with Forrest. She denied she had had any improper contact with him as had been alleged.
Her phone was then taken away for analysis, and on it were found photographs of Forrest and text messages.
The next day, on 20 September, Forrest did not go to school, saying he was unwell.
Later in the day, he booked a ferry on-line for that evening from Dover to Calais for "J Forrest"' and "E Forrest" travelling in his car.
The schoolgirl told her mother she would be staying overnight at a friend's house, when in reality she was being picked up in Eastbourne by Forrest.
That night the pair were captured on CCTV hand-in-hand on board the Spirit of France ferry, which had left Dover for Calais at 21:20 BST.
They drove overnight to Paris, abandoning the car on their arrival on Friday 21 September, and catching a train to Bordeaux.
The teenager was reported missing on the same day after she failed to turn up for school.
Police contacted Emily Forrest to ask about the whereabouts of her husband, who was not at school either. It soon became apparent that the couple were missing together.
They booked into a hotel in Bordeaux for one night before moving on to another lodging, and dyed their hair and began looking for jobs after producing false CVs at an internet cafe.
On 25 September, a European Arrest Warrant was obtained by Sussex Police in respect of Forrest for the offence of child abduction.
Two days later, the owner of an English bar in Bordeaux contacted by Forrest seeking employment, recognised his picture and that of the girl on the Guardian newspaper website and she contacted Sussex Police.
In liaison with French police, Sussex officers arranged to travel to Bordeaux.
They asked the bar owner to contact Forrest and to invite him for a trial shift at the bar the next day.
On Friday 28 September, at about 12:30 BST, French and Sussex police officers acting together were able to intercept Forrest and the schoolgirl together in the street as they made their way towards the bar.
They had been on the run for nearly eight days.
The following day the girl was flown back to the UK to be reunited with her family.
October 2012
Forrest was returned to the UK and charged with child abduction on 10 October.
10 June 2013
The trial of Forrest for child abduction began at Lewes Crown Court.
20 June 2013
The jury found Forrest, who chose not to give evidence in his defence, guilty of child abduction after deliberating for two hours.
21 June 2013
Just before his sentencing Forrest admitted to charges of having sex with the pupil.
Judge Michael Lawson QC sentenced him to four-and-a-half years in jail for five offences of sexual activity with a child and one year for the offence of child abduction, to run consecutively.
Forrest was also ordered to sign the sex offenders register and banned from working with children for life.