Brighton 'racist rant' on train suspect named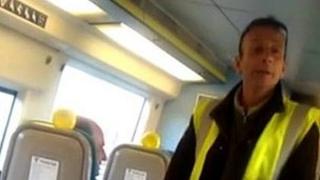 A man wanted for questioning after a racist abuse incident on a train in Brighton has been named by police in a bid to trace him.
British Transport Police are looking for Darren Daly, 43, who is wanted on suspicion of a racially aggravated public order offence.
Insp Gary Ancell said officers had visited four addresses over the past few days but had not found him.
Footage of the incident on 26 May was uploaded on to YouTube.
Mr Ancell said the investigation continued and officers were looking at CCTV opportunities and circulating information to other police forces.
Investigators have urged anyone with information about Mr Daly's whereabouts to come forward, he added.
And he said: "I am urging Mr Daly to do the right thing and come forward and speak to us.
"Everyone has the right to travel without fear of abuse or threatening behaviour. We take all reports of racism extremely seriously, and will do all in our power to trace the man responsible."