Shoreham ferryman Harry Elmer 'may be remembered'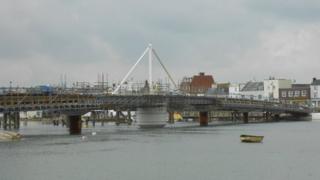 A ferryman who died while working on a footbridge may still be commemorated in a West Sussex town after a campaign to name a bridge after him failed.
Campaigners had called for Shoreham's new £10m swing bridge to be named after Harry Elmer, who died in 1940.
But Mr Elmer's name failed to be shortlisted following a competition that invited residents to submit names.
Mike Mendoza, chairman of Adur District Council, said Mr Elmer could still be remembered, along with other nominees.
He said individuals had not been selected because the panel felt "there were so many names it would be unfair to choose one".
Speaking to BBC Sussex, Mr Mendoza said: "I had a thought over the weekend that because there were so many individual names, maybe we should have some type of tribute to these people that would be put forward.
"Maybe in the civic centre or in the new civic centre when it's built, or even in the Marlipins Museum, so the names should be certainly preserved."
The original budget of £5.8m nearly doubled to £9.8m during the construction of the bridge.
The new bridge replaces the old structure, after its foundations had "taken a pounding" over the years and it could not be economically repaired.
Public voting for the winning name will take place online with a winner due to be announced at the end of June.
The new bridge is due to open to the public in September.