Eastbourne Hospital paediatricians in 'catastrophe' warning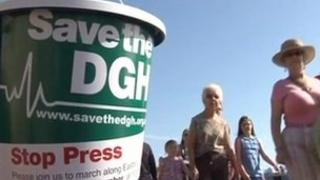 Consultant paediatricians at Eastbourne District General Hospital have said the newly configured children's services are unsafe.
In a letter they said there was a risk of "catastrophes and serious failure".
East Sussex Hospitals Trust said the move to a midwife-led maternity centre in Eastbourne, with consultants based in Hastings, was temporary.
The trust said managers had met with the paediatricians to "understand" the issues underlying their concerns.
The altered services came into operation at the beginning of May.
NHS managers said the temporary measure was needed to cope with staffing shortages.
However, nine consultant paediatricians working for the trust said the change had made matters worse.
'Catastrophe risk'
The open letter said: "It is our united view that the paediatric service, although not perfect, was not unsafe but as reconfigured is now unsafe and there is the risk of serious failure.
"The acute paediatric service in East Sussex is unsafe and is at risk of catastrophes and serious failure. We are clinicians, not politicians, and so are unsure to whom we should now address our concerns."
However, a spokeswoman for the trust said there was "no evidence" that it would be safer to revert to providing the inpatient service on two sites.
"We have taken appropriate and immediate actions to address the issues raised and further improve the safety of the service," she said.
"We have also taken the views of clinicians both internally and externally including the lead doctor for paediatrics across Sussex on whether we have appropriate policies and arrangements in place."