Midhurst A3 signage reprieve from Highways Agency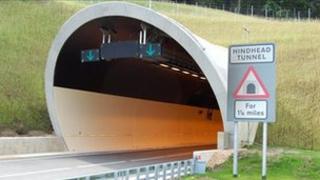 A road sign in a Sussex town could be restored after town councillors won concessions from the Highways Agency.
No road signs have been shown in Midhurst on an eight-mile stretch of the A3 since the Hindhead Tunnel was completed in July 2011.
Town councillors complained and in February the Highways Agency said it had removed the name in line with "current guidance".
A sign could now be installed if the town council funds it, the agency said.
John Quilter, who is the vice chairman of Midhurst Town Council, said the council held a meeting with representatives from the agency.
"We had what we thought was an initial stonewalling, but I'm very pleased to say... we've found a potential way forward," he said.
"It will involve us going to a third party scheme, which means if we can get together a proposal for additional signage and find funding for it the Highways Agency will work with us to get that put in place."
A spokesman for the agency said it works hard to not overload the signs with too much information.
"We will consider installing signs to Midhurst, in line with design standards, and have discussed this with the town council who are now considering the available options," he said.