Lindfield 'could not cope' with new development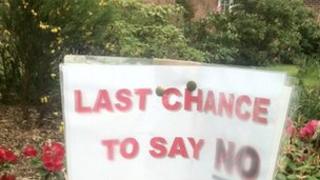 A Sussex village does not have the infrastructure needed for a proposed housing development, campaigners say.
The 230-home development which includes 69 affordable homes is being proposed on the edge of Lindfield, West Sussex.
The homes would be built to the east of Gravelye Lane between Lindfield and Walstead and would be accessed through a smaller development being built.
Mid Sussex District Council said it would not be commenting before the planning committee meeting later.
Gil Kennedy, vice-chairman of the Lindfield Preservation Society, said: "Combined with two other developments, the proposal would add 1,000 new residents and put 600 new cars on the roads.
"The village infrastructure would have no chance in coping with a surge in population like that."
More than 1,200 people, as well as town and parish councils have objected to the plans and an 800-signature petition has been handed to the council.
Lindfield is joined to Haywards Heath on its south and west boundaries, and campaigners fear the development will affect the east boundary of the village.
John Ely, leader of the campaign against the development, said; "We are not against progress in Lindfield.
"We are pro-development, but not on this scale."