Brighton rubbish disruption continuing after strike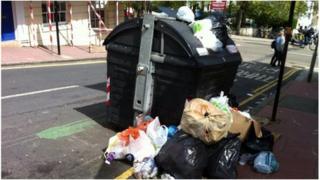 Disruption is continuing across Brighton after unofficial industrial action by refuse workers, the city council has said.
In a service update, the council said crews were operating according to their usual collection days, but delays were still expected.
Binmen went on strike over pay and allowances last Wednesday and Thursday.
The GMB union has said its members in the council's Cityclean department are being balloted for industrial action.
One resident told the BBC his bins and recycling had not been collected for two consecutive weeks and the situation was "still a major problem".
'Backlog being cleared'
A Brighton council spokesman said: "We have put in additional resources and we are catching up on the backlog although we understand that this is taking some time.
"In addition to the normal collection schedule we are planning to have additional crews out this Saturday.
"Two additional crews also went out last night and we expect to have more crews out tonight. We are working to clear the backlog as quickly as possible and apologise for any inconvenience."
Residents have been advised to put their rubbish and recycling out for their next scheduled collection if their last collection was missed.
The council said crews were unlikely to collect waste that did not fit in bins or boxes left out, and this was part of the ongoing disruption.
It also warned residents the law did not permit them to withhold council tax payments, after some asked if they could have refund or withhold payment.
GMB senior organiser Charles Harrity said the council planned "huge cuts to take-home pay" for the workers.
Council chief executive Penny Thompson said the authority had put forward proposals to ensure "fair and consistent" pay and allowances for 8,000 staff affected.