South Downs 300ft slope-plunge of 4X4 leaves three hurt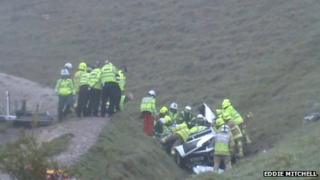 Three men were injured when their Land Rover plunged 300ft (91m) down a valley on the South Downs in West Sussex.
The vehicle left the road east of the village of Edburton, at Fulking Escarpment, on Sunday evening.
Specialist fire and rescue teams used ropes and 4x4 vehicles to rescue the three occupants. The 26-year-old driver was airlifted to hospital.
Sussex Police said he suffered serious but not life-threatening injuries, while two other men had minor injuries.
Officers said the driver, from Brighton, lost control of the Land Rover on a bridleway on Perching Hill.
It then fell down a steep grassy hill, hitting a tree on a raised bank at the bottom
Sheena Trist, who lives nearby in the village of Fulking, heard cries for help and called the emergency services.
Police are appealing for any witnesses to the incident, or anyone who saw the old-style Land Rover with a G registration plate being driven on the South Downs beforehand, to contact them.