Gatwick Airport: Police arrest pair over van alert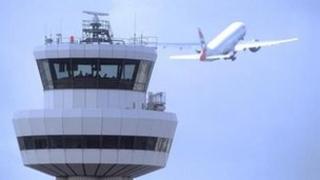 Two men have been arrested after a van dumped at a Gatwick Airport car park caused a major security alert.
The pair, both aged 33, were held on arrival at the West Sussex airport from Palma, Majorca, on Monday.
The were arrested on suspicion of theft, fraud by false representation, handling stolen goods, causing a public nuisance and money laundering.
Controlled explosions were carried out on a Renault van in the North Terminal car park on Wednesday.
Suspicions were raised after two men in the untaxed, uninsured and unregistered vehicle pushed up a barrier to gain access to the car park.
Sussex Police said officers contacted the bomb disposal unit after attempts to locate the men failed and they became worried there could be something heavy in the back.
Following controlled explosions by bomb disposal experts to gain entry to the van, police said they found "nothing of concern" in the vehicle and restrictions were lifted.
One of the arrested men is from Enfield in north London and the other is of no fixed address.
They have been released on bail until 28 August.