Shoreham £20m biofuel power plant plans agreed
7 May 2013

From the section

Sussex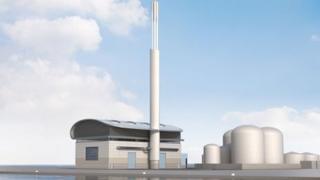 Plans to build a £20m biofuel power plant in Sussex have been approved despite protests.
Edgeley Green Power were granted planning permission to construct the facility near the existing Shoreham Power Station on Tuesday evening.
The firm said the plant would create about 20 permanent jobs and 70 temporary ones.
Campaigners protested outside Adur District Council before Tuesday's planning committee vote.
Brighton and Hove City Council also opposed the plan because of smell and air pollution concerns.
'Too close'
The facility, which would burn vegetable oil and animal fat, could power up to 18,000 homes and start operating from the beginning of 2015, according to Edgeley Green Power.
Neil Parkin, leader of Adur District Council, said: "I only live half a mile away and as I suffer from chronic asthma I've read all the reports and taken independent advice from an expert... and I've been totally reassured."
"All the stuff they're going to burn will have the smell removed by some chemical process before it actually comes into the port to be used.
"With the power station next door, it can tap into the national grid easily... and all the fuel comes in by boat instead of hundreds of road tanker movements every day."
However, the leader of Brighton and Hove City Council, Jason Kitcat, said the proposed plant was too close to urban areas.
"The environment agency will be regulating its operation, but that's not to say that it won't be causing emissions, which it will be," he said.
"It is fundamentally burning something and that will be contributing to air pollution.
"It's surrounded by a dense urban area."
The decision was passed subject to the firm paying £40,000 towards air quality monitoring, establishing an apprenticeship scheme and using local labour and businesses.
The plant cannot use palm oil or oils fit for human consumption and efforts must be made to recover waste heat and enable it to be used by nearby properties.