Man arrested after nurse injured at Brighton nationalist march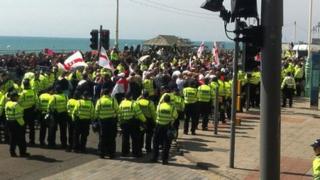 A man has been arrested on suspicion of GBH after a nurse was left with a serious eye injury after being caught up in a nationalist march and protest.
The 25-year-old Brighton woman, who had arranged to meet a friend on the seafront, was hit in the face with an object as she tried to pass the crowds.
A man, 35, was arrested following appeals to anyone who witnessed the incident during the March for England event in Brighton on 21 April.
He has been bailed until 22 May.
Det Sgt Duncan Elliott said: "We are still investigating a number of incidents and offences that occurred on the day of the march and in particular, we want to talk to anyone with information about people who were throwing missiles.
"Sadly, the nurse who was injured was nothing to do with the march or counter protestors, but quite coincidentally had been walking down to the seafront and had been brought to a halt by the large crowd."