Newhaven 'largest water park' plans scrapped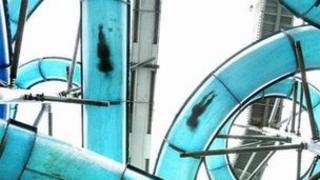 Plans to build what developers claimed would be one of world's largest water parks have been abandoned.
Round Table Entertainments said it gained backing from investors based in Kuwait to build the attraction, at Newhaven in East Sussex.
But, it has now reportedly decided it is not economically viable to build on the site because the land is contaminated.
The £350m venture would have spanned six hectares and included a hotel.
East Sussex county and Lewes district councils said they were "disappointed" that the project was not going ahead.
The county council approved the sale of the land at Riverside Park to Kuwaiti European Holdings Company (KEHC), pending certain conditions, in March.
'Haven't lost anything'
Rupert Clubb, East Sussex's director of economy, transport and environment, said: "The council supported the scheme as it would have brought considerable investment and job opportunities to Newhaven and the wider East Sussex area, so we're disappointed that this project isn't going ahead.
"It was always the case that the land would remain in council ownership until these pre-sale conditions were satisfied."
Lewes District Council said it had sold the Lewes Road recreation ground to KEHC in June 2012, and that its legal costs had been paid for.
James Page, the council's leader, said: "I am disappointed that this particular proposal didn't work out but we haven't lost anything.
"Lewes district is still open to big ideas, we've put Newhaven on the map and we've shown we can work with developers and the community to bring them to fruition.
"Not every project will go ahead so we are the first council in the country, so far as I am aware to use new powers under the Localism Act to make sure the council's not out of pocket if things don't work out."
He said that KEHC had offered to return the recreation ground to the authority at no cost, and to make a small contribution towards environmental improvements.
The developers have not yet responded to a request for comment.