Gatwick Airport: Police view CCTV for van alert pair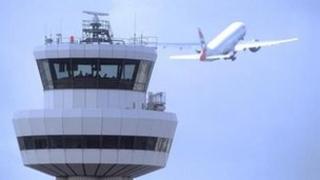 Police are studying CCTV in a bid to find two men who dumped a van at Gatwick Airport's North Terminal car park and caused a security alert.
A bomb disposal unit carried out controlled explosions on a blue Renault van on Wednesday evening.
Suspicions were raised after the men in the untaxed, uninsured and unregistered vehicle pushed up a barrier to gain access to the car park.
Officers believe they dumped the vehicle and then boarded a flight.
Sussex Police said they contacted the bomb disposal unit after attempts to locate the men failed and it appeared there may have been something heavy in the back.
'No terrorist threat'
Several controlled explosions were carried out to gain entry to the vehicle.
Det Insp Rob McPhilemy, of Gatwick CID, said: "Once we were able to see into the van, it was quickly established that there was no suggestion of a terrorist threat and the reason for it appearing to be very well loaded was a large amount of old car parts and other scrap metal.
"The odd thing is that if they had parked correctly, the van would probably have not aroused suspicion and caused the problems that it did, but in these circumstances the safety of everyone at the airport is the number one priority.
"We are considering the very strong possibility that the two men who can be seen in the van on CCTV images, but not very clearly, dumped the van and then went into the airport and boarded a flight.
"We are now viewing a large amount of CCTV material in a bid to establish if this is the case."