Brighton City Airways suspends Shoreham-to-Paris flights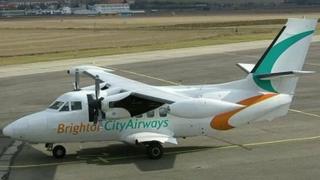 Cross-Channel flights from a Sussex airport are to be suspended in a dispute with French authorities.
In March, Brighton City Airways (BCA) launched flights from Brighton (Shoreham) Airport to Paris Pontoise, near the French capital.
BCA said it would halt flights from 7 May because of delays setting up an immigration point of entry at Pontoise.
A spokesman for Aéroports de Paris Group, which runs Paris Pontoise, said it was hoping to resolve the issue.
He added: "The Aéroports de Paris Group regrets this decision.
"Aéroports de Paris is continuing to work on reopening these two airfields [Pontoise and Toussus] up to non-Schengen traffic as soon as possible in order to maintain the promising scheduled services between Pontoise and Brighton."
Jonathan Candelon, of BCA, said ticket sales had been "over target" and they were "truly sad to suspend the flights".
'Inconvenience for passengers'
"Just two weeks before we launched the airline in March, we were advised by the French authorities that there would be a short delay of a couple of weeks before a customs and immigration port of entry was in place at Paris Pontoise," he said.
"However, eight weeks later, this intolerable issue remains in place and with no firm date set for a resolution.
"In the meantime, we have been obliged to land in another French airport - usually Rouen or Le Touquet - en-route to Pontoise and the authorities have very rarely come aboard to check passports.
"This has meant having two take offs and climbs instead of one, longer flight times, extra airport fees and extra maintenance costs, all of which add up to a single flight to Paris costing us 60% more than a direct flight would cost, never mind the inconvenience for passengers."
Airport manager Ric Belfield said: "Brighton Shoreham Airport are deeply disappointed that the French Customs issues at Paris Pontoise show no signs of being resolved and as a result Brighton City Airways have reluctantly had to take the difficult decision to suspend the operation until the matter is resolved."
BCA had claimed passengers on its Let-410 commuter aircraft would be able to reach Paris within just two-and-a-half hours of parking at Shoreham.