Hastings hospital pond body believed to be Gary Baker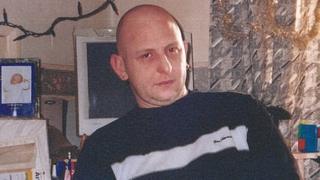 The body of a man found in a pond next to an East Sussex hospital is believed to be that of a 47-year-old man who had discharged himself days before.
Gary Baker was reported missing to police after he left the Conquest Hospital in Hastings on Thursday evening, leaving his belongings behind.
The BBC understands Mr Baker was admitted to hospital after being stabbed in St Leonards on 14 April.
The hospital said it followed a robust procedure for searching for patients.
The body was spotted in the pond in fields outside the hospital by a local man walking his dog on Tuesday evening.
Police said officers who attended the scene at 19:00 BST called East Sussex Fire and Rescue Service to recover the body because the boggy ground was extremely hazardous.
Needed medication
The fire service said two crews from Battle carried out a "protracted" four-hour rescue operation.
After he went missing from the Conquest, police said Mr Baker was in need of medication following an operation.
Mr Baker's family and friends had heard nothing from him and a missing person appeal was made by police.
Det Insp Hannah Willard said the death was being treated as unexplained until a post-mortem examination established the cause.
The BBC understands Mr Baker was stabbed and seriously injured on the steps between St George's Road and Manor Road as he was walking home by an assailant who asked for his mobile.
A 17-year-old local boy has been charged with wounding and possession of any offensive weapon.
He appeared before Brighton magistrates on 20 April and was bailed to appear at Eastbourne Magistrates' Court on 13 May.
Hospital-wide search
A hospital spokesman expressed its condolences and deepest sympathies with Mr Baker's patient's family following the discovery of the body.
"The patient was last seen on the ward at 18.40 BST on Thursday," it said in a statement.
"Within 30 minutes of the patient last being seen on the ward, a hospital-wide search was launched and the police and next of kin were both informed.
"We will cooperate with any inquires by the police and coroner's office."