Carbon test hopes for 'Battle of Lewes casualty'
30 April 2013

From the section

Sussex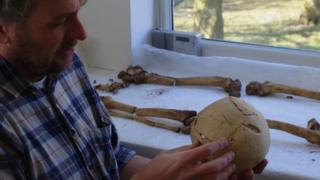 Tests are under way on a skeleton found in an East Sussex town to find out if it is a victim of the 1264 Battle of Lewes.
Lewes is gearing up for celebrations next year to mark the 750th anniversary of the battle between the armies of King Henry III and Simon de Montfort.
York University experts are testing bones thought to be those of a soldier.
Sussex Archaeological Society said the skeleton could take centre stage in next year's anniversary celebrations.
Burial question
Edwina Livesey, from the society, said the remains were found years ago when a school was demolished in Lewes.
She said that at the time archaeologists excavated a medieval cemetery containing a number of skeletons, of which Skeleton 180 was one.
This particular skeleton had a skull showing sword wounds and a large number of blows to the head, and the site would have been in the centre of the battlefield, she added.
But she said: "The question is, why is he in this cemetery? Because the other victims were all slung into a pit."
Ms Livesey said carbon testing could establish its age to within about 65 years, but from looking at the skeleton the body was that of a man, aged 35 to 40, and a "big powerful bloke very much in the prime of his life".
'Starring role'
She said the skull also showed severe tooth decay, which would have been the result of gritty bread made in medieval times that took several minutes to chew.
But she said if the skeleton was found to be from the Battle of Lewes, then he would "absolutely" have a starring role.
The society has described the battle - which resulted in the king's defeat and the summoning of England's first representative parliament - as an "early struggle for democracy".
More than 300 volunteers have worked on the town's Battle of Lewes Project, a community scheme funded by the Heritage Lottery Fund, that culminates in a special celebration next year.
Plans are taking shape for a medieval street festival.
Suggested highlights include a march on Lewes to commemorate de Montfort's arrival in the town, banners and re-enactments in the High Street, a sound and light show at Lewes Priory, a festival on the actual battlefield site at Landport Bottom, and exhibitions and displays.