Horsham man sues garage over speeding ticket
23 April 2013

From the section

Sussex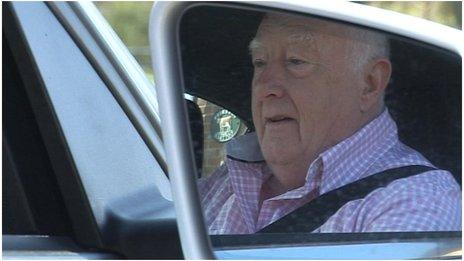 A man who received a speeding ticket while his car was being repaired is suing the garage over the stress caused after he was taken to court.
Norman Bryant took his vehicle to Kia Motors Gatwick, but while it was there it was clocked doing 81mph on the A23.
The pensioner, from Horsham, said he was summonsed to court by Sussex Police and later suffered a nervous breakdown.
The garage apologised but said Mr Bryant did not fill out the correct paperwork when the fine was issued.
The case was dropped at a magistrates' court when he pleaded not guilty.
Mr Bryant said: "I was really angry they [the garage] had done this and used my car in that way.
"There was no excuse for it."
He said the stress of the episode caused him to have a nervous breakdown and lose four stone in weight.
A spokesman for the garage said one of its technicians was driving the car as part of a routine road test on 14 April 2010 when the 70mph limit was exceeded.
He said despite admitting fault to Mr Bryant, he did not return the paperwork correctly and was therefore summonsed to court.
He said: "Unfortunately, we do not think it appropriate to go into as much detail as we would like, due to the fact there is a hearing in the county court in the near future."
A spokesman for Sussex Police said: "A notice of intended prosecution was sent to the vehicle owner following the speeding offence, asking for the identity of the driver at the time.
"The response failed to provide this information, so another notice was issued, which was similarly returned failing to provide the identity of the driver.
"As a result, the vehicle owner was deemed liable and a summons was issued."