Chiddingly villagers take in sheep found in streets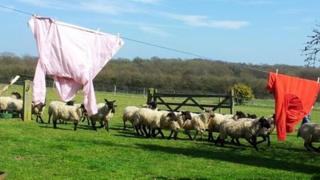 More than 50 sheep that wandered into a village have been taken in by residents while Sussex Police trace the owners.
Hugh Soper and his wife are looking after 20 sheep in Chiddingly and another couple have taken in 33.
He said the animals were "lovable" but could have been dumped and he may now have to pay to have them destroyed.
"If I'd known what I was letting myself in for, I might have shooed them down the road," he said. Police said they were working to resolve the situation.
Mr Soper, who keeps 17 hives of bees, said the first he knew of the sheep was when they surrounded the apiary.
'Last year's lambs'
He said he and his wife rounded up the animals and moved them into a paddock.
"The theory is they've been dumped because of the shortage of grass," he said. "And farmers couldn't afford to buy hay last year because it was so expensive."
"They [the sheep] are not worth anything. In fact, they are a liability."
The sheep, thought to be Suffolks, which do not have ear tags and which he believes to be last year's lambs, could not enter the food chain, he added.
"I'm saddled with them," he said.
"In another fortnight's time, they will become my legal property and I have got to dispose of them at my own expense."
A statement issued by Sussex Police said: "There do not appear to have been any reports of missing or stolen sheep in the area.
"Neighbourhood police officers are working to resolve the situation."
'Sheep not counted'
Frank Langrish, from the National Farmers' Union (NFU), said sheep could travel long distances and these could have run out of food and moved several miles away.
"The owner may have more sheep than this and actually hasn't counted his sheep because he's busy lambing," he added.
He said sheep over six months should have ear tags, but a farmer keeping them for his own flock may not have got round to it.
All animals entering the food chain had to be traceable and farmers normally had an audit trail of all animals born, with tags allowing livestock to be traced to their farm of origin, he said.