Three men in court over Brighton flat squatting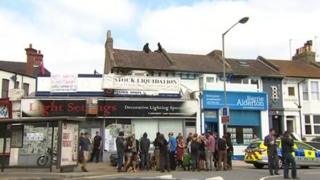 Three men who were arrested in a flat in Brighton have gone on trial under new anti-squatting legislation.
Alistair Cannell, 23, Tobias Sedwick, 23, and Dirk Duputell, 30, all of Brighton, appeared at the city's magistrates' court earlier.
Magistrates were shown police video which the prosecution claims showed signs of people living in the flat at number 77a London Road.
The three, of no fixed address, deny squatting in a residential premises.
They also pleaded not guilty to obstructing a police officer.
The police video showed officers entering the property and views of the first floor flat.
The court heard there were signs of people living in the flat above business premises, including a fridge full of food and the bathroom had been in use.
Police said the video then showed officers going into the attic where they discovered the three men with their hands glued together around a beam.
The court heard it took seven hours to prise the men apart before they could be arrested.
The men's defence team argued that there was no case to answer, because the property was not residential and that there was no proof the men were living in the building.
Until September, squatting was treated as a civil matter. The maximum penalty for the new criminal offence is six months in jail, a £5,000 fine, or both.
The case continues.