Gatwick Airport death: Police acted 'appropriately'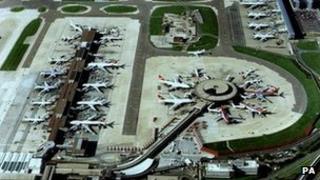 Police have been cleared of blame over the death of a man who took his own life at Gatwick Airport station.
But an independent report says officers who tried to calm Ernestas Anikinas in the airport terminal "could have done more" to establish why he was agitated.
Mr Anikinas, 33, cut himself with a broken bottle on the station platform after officers escorted him there.
An inquest decided he took his own life and the coroner praised police and rail staff who tried to save him.
Penelope Schofield, coroner for West Sussex, commended the officers for "doing all they could in trying to save Mr Anikinas's life".
But a report from the Independent Police Complaints Commission (IPCC), which investigated the police's involvement, said while the officers acted "appropriately" in using an electric stun gun to restrain Mr Anikinas, "more could have been done to try to identify why Mr Anikinas was so agitated".
'Amazing job'
The inquest was told police were called in February 2012 after Mr Anikinas, who was preparing to return home to Lithuania after a short stay working in the UK, began acting "strangely" in the airport's South Terminal.
They gave him access to an interpreter and, when he said he wanted to go to London's Victoria Station, officers accompanied him to the station platform, where he broke a bottle and cut himself, the court heard.
The jury was shown CCTV footage of the efforts of police and station staff to save Mr Anikinas.
Sussex Police said Mr Anikinas's family had thanked the officers for their "amazing job" in trying to save his life.
A force spokesman said: "As both the IPCC and the coroner have observed, the officers were faced with very difficult circumstances, and it was their primary objective to save Mr Anikinas's life."