Mystery after Shoreham-by-Sea sheep's scarves removed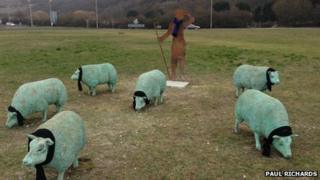 Mystery surrounds the removal of scarves that were placed around the necks of fake green sheep.
The plastic flock was first installed on a roundabout on the A283 in Shoreham-by-Sea in November 2011 to promote the South Downs National Park.
The animals were then removed by the county council after motorists thought they were real, but were reinstated on Tuesday with a life-sized shepherd.
A businessman put scarves on them, which were taken off 24 hours later.
West Sussex County Council said local artist Danny McBride was commissioned to design the steel shepherd to make it clear the sheep were not real.
Paul Richards, director of Sussex Marine Watersports, said he put the scarves on them on Wednesday to "put a smile on people's faces".
He said the garments could not have blown off since they had been tied on.
The animals' return was "good news" for the town, Mr Richards added.
"If it gets people talking about Shoreham - we're half way between Brighton and Worthing - then it's a good thing," he said.
Mr Richards said he had also put Christmas hats on the sheep in December 2011.
"When it gets to summer, I've got some sunglasses ready to put on them," he added.
West Sussex County Council declined to comment.