University of Sussex occupation: Four charged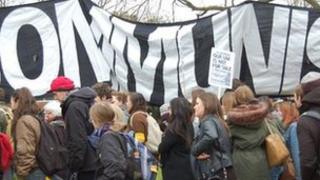 Four students have been charged in connection with an eight-week occupation at the University of Sussex.
Can Aniker, 21, has been charged with causing criminal damage at the Brighton campus during a protest on 25 March.
Three others - Kristina Ilieva, 23, Sarah Becca, 24, and Caradog Jones, 19 - were charged with obstructing police.
The four, all with addresses in Brighton or on campus, were bailed to appear at Brighton Magistrates' Court on 18 April.
Possession order
The protest began on 7 February, when a number of students occupied Bramber House on the campus at Falmer, in protest at the university's decision to pass some of its support services, including catering, to external companies.
University authorities initially allowed the occupation, on the top floor of the student-services building, until a large protest on 25 March was attended by hundreds of students from around the UK.
Police said "significant damage" was caused to university property during the demonstration, which prompted the university to secure an injunction preventing future unsanctioned protests and a possession order, which was enforced on 2 April.
Sussex Police said it was continuing its investigation into the events of 25 March.