Brighton A&E demand sees 'worst nursing week'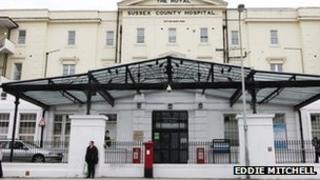 Nurses in a Brighton A&E have raised concerns they are unable to deliver good patient care because of overcrowding and understaffing.
Staff said the past week in the Royal Sussex County Hospital's A&E had been "the worst of their working lives".
The Royal College of Nursing (RCN) said the hospital declared a major incident on Monday due to high demand, with ambulances diverted to other sites.
The NHS said significant steps to improve services were being taken.
It comes days after a senior GP reported a recent "severe deterioration in A&E performance", in a letter leaked to the BBC.
Teresa Budrey, of the Sussex RCN, said staff were "desperately trying to deliver good care in difficult and challenging circumstances".
'Prolonged pressure'
She said the department had seen up to 13 patients waiting to be placed at one time, although all received triage support from a senior nurse and ambulance staff.
Nurses had been urged to report problems to the RCN and seek support, she added.
She said: "We understand the pressure on A&E is caused by a number of factors, not all of which can be helped, but we are deeply concerned by this situation."
Chief nurse at Brighton and Sussex University Hospitals NHS, Sherree Fagge, said the trust had been working closely with staff during an "incredibly difficult and challenging period".
Ms Fagge said she was aware of the enormous impact on nurses of working under prolonged pressure and added the trust was investing £500,000 to increase numbers of A&E nurses as quickly as possible.
The NHS had run a winter campaign to raise public awareness of alternatives to visiting A&E, she said.
She added the NHS needed greater availability and accessibility from health and social care services which supported people being discharged.