Royal Sussex: 'Patient care deteriorating' GP's fear
11 March 2013

From the section

Sussex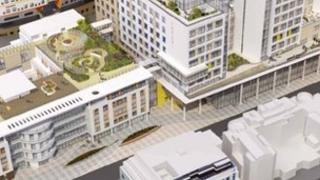 A senior GP has expressed concerns that pressures caused by the £420m redevelopment of a Brighton hospital will lead to a deterioration in care.
In a leaked letter, Dr Christa Beesley said there had been a recent "severe deterioration in A&E performance" at the Royal Sussex County Hospital.
She said GPs were not assured the redevelopment would not further negatively impact on patient care.
The hospital trust said it was doing everything to keep the hospital safe.
Work began last year on an eight-year scheme to replace 200-year-old buildings and establish the hospital as the major trauma centre for the region.
It will have a bigger cancer centre and elderly care, general medicine, HIV and clinical infection wards will be brought up to modern standards.
The Hurstwood Park regional centre for neurosciences will be expanded and relocated.
'Exacerbated our concerns'
Dr Beesley will be a leading GP in the Brighton and Hove clinical commissioning group when the primary care trust is abolished next month.
Her letter to colleagues says concerns have grown about the redevelopment being undertaken by Brighton and Sussex University Hospitals NHS Trust (BSUH).
"The current failure of the BSUH specialist neurosurgery service has exacerbated our concerns," she said.
In a statement on Monday she said it had been well publicised that the A&E department in Brighton had been under pressure.
"That has meant longer waits than we would like for people with non-urgent concerns," she said.
But she said the hospital and its services were safe "thanks to the hard work of everyone involved."
BSUH said it had been doing everything it could to keep the hospital and patients safe during an "extremely challenging" period.
"We have been working with our local primary and community care services to find ways of relieving the unrelenting pressure on our emergency departments and on beds across our hospitals in both Brighton and Haywards Heath.
"This includes the urgent need to improve the availability and/or awareness of the alternatives to A&E or the hospital.
"The redevelopment of the Royal Sussex County Hospital is as much about providing a better environment for the care of our most frail and elderly patients as it is about building facilities for our more specialist services.
"It is long overdue, entirely necessary and will be of enormous benefit to the people of Brighton and Hove and across Sussex."