Brighton City Airways begins Shoreham to Paris Pontoise flights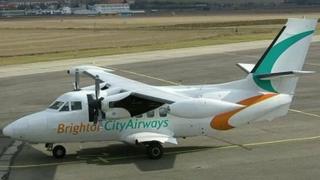 An airport in West Sussex is beginning twice-daily scheduled flights to France following the launch of a new airline.
The Brighton City Airways (BCA) flight from Brighton (Shoreham) Airport to Paris Pontoise, 17 miles (27km) from the centre of Paris, takes an hour.
Its Let-410 commuter aircraft carries a maximum of 19 passengers.
It is the first scheduled international flight to operate from the airport, which has been rebranded to coincide with the launch of the service.
Airport manager Ric Belfield said: "This is absolutely what we want to see at the airport, scheduled international travel bringing people through our historic airport, which was the first licensed airfield in Britain.
"This prompted us to rename the airport Brighton (Shoreham) Airport, to link it properly to our neighbouring city."
BCA claims passengers will be able to reach Paris within just two-and-a-half hours of parking at Shoreham.