Deteriorating wall at Rye Harbour rebuilt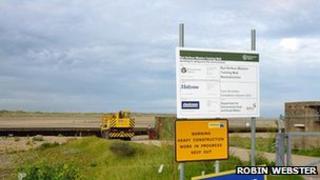 A harbour wall in East Sussex has been rebuilt after the original deteriorated so much that it was at risk of failing.
The Western Training Wall at Rye Harbour was built in the 1920s but was repaired several times and extended some 40 years later.
The £9m project to replace the original was carried out by the Environment Agency and took a year to complete.
The wall maintains the harbour's navigation and conveys flows from the rivers Brede, Rother and Tillingham.
It is also important for local wildlife, protecting diverse designated habitats which are important to migratory birds.
The Environment Agency said if it had deteriorated any further, it would have had an impact on the local economy and the protected habitats located behind the wall and those of Camber Sands.