Aging Crawley flyover closes for 'vital' repairs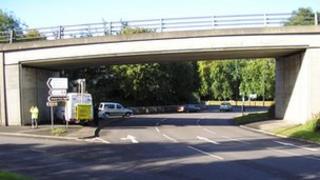 A flyover built 40 years ago in Crawley has closed to undergo "vital" repairs to prevent it being unsafe to traffic.
The Hazelwick flyover will close for 16 weeks while the work is carried out.
According to West Sussex County Council, the parts in need of repair are past their expected service life of 25 years.
Pieter Montyn, cabinet member for highways, said the flyover would fail its safety inspection if the work was not carried out.
He said: "By doing this proactive maintenance work now, we are minimising the disruption people will experience.
"We can carry out other repairs at the same time so no other major works will be needed later once this is finished."
During the £650,000 scheme, the Hazelwick roundabout, which is straddled by the flyover, will be reduced to two lanes.