Michael Griffiths murder: 'Targeted for jewellery'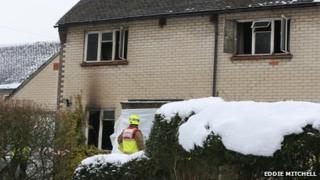 A 59-year-old man whose body was found in a burning house in West Sussex may have been targeted for jewellery, police say.
The body of Michael Griffiths was found by firefighters at his house in Old Glebe, Fernhurst, last Thursday.
Det Ch Insp Jeff Riley said the investigation would take some time because of the damage caused by the fire.
Mr Griffiths was known locally for his jewellery which he made at home.
Mr Riley said: "We believe he was targeted for the property that was in his home.
"We are aware that property appears to have been stacked up at the rear of the house, and it appears that some property is missing.
"Because of the complex crime scene, it's very difficult to say what should be in the house.
"That's something we'll be working through with Michael's friends and family."
Mr Griffiths suffered a "significant assault to his head and body", Mr Riley said.
A post-mortem examination proved inconclusive and more tests were being carried out to establish the cause of death.
"It's clear, we're dealing with a murder," Mr Riley said.