Michael Griffiths murder: Police seek potential witnesses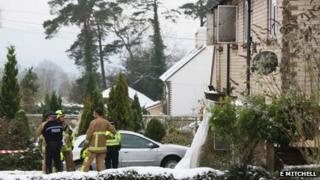 Detectives investigating the murder of a man whose body was found in a burning house in West Sussex are returning to the area to seek potential witnesses.
The body of 59-year-old Michael Griffiths was found at his house in Old Glebe, Fernhurst, on 24 January.
Police said he had serious injuries to his head and body but a post-mortem examination had proved inconclusive.
Walkers and motorists in the area will be stopped and questioned by police on Wednesday and Thursday morning.
They said they would be talking to anyone who had been near Mr Griffiths's home between 06:30 and 08:00 GMT last Thursday, when the fire that seriously damaged the house is thought to have broken out.
'Popular and well-known'
Det Ch Insp Jeff Riley said: "We are hoping that by talking to people who regularly use the roads and footpaths around Michael's house, we might nudge someone's memory about something that just wasn't quite normal or usual.
"That might be someone they didn't recognise, an unfamiliar car parked nearby or just an item or event that may now seem suspicious."
Mr Griffiths's body was discovered by firefighters who attended the blaze.
Detectives believe the jewellery designer and maker may have been specifically targeted.
Mr Riley said Mr Griffith's was a "well-known and popular local man" who was an enthusiastic antiques buyer and seller.
He said fire investigators had found a suspicious seat of fire near the lounge window at the back of the house, and smoke patterns suggested the windows were open when the fire broke out.
He also said it was known that Mr Griffiths had callers last Tuesday evening who threw snowballs when he answered from an upstairs window, which may have just been "an innocent prank".