Arsonists in Hove set fire to vehicles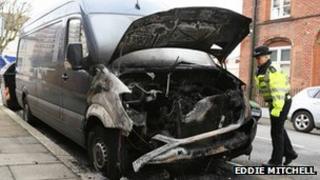 A spate of criminal damage and arson overnight is being investigated by police and the fire service in Sussex.
Firefighters were called to six vehicle fires in six streets in the Sackville Road area of Hove within the space of two hours early on Friday.
Criminal damage was caused to other vehicles, while fires in bins and at two sheds on allotments were also dealt with. No-one was injured.
A police spokesman said damage put at thousands of pounds was caused.
James Fears, whose three-wheeled motorbike was set alight, said the person responsible "had no regard for human life".
"Round the corner, a van was literally burnt - supposing he'd [the owner] been in there?" he said.
Anyone with information about the incidents, which happened between 00:19 and 02:30 GMT, is asked to call police.