Ford Open Prison 'greatly improved' since riot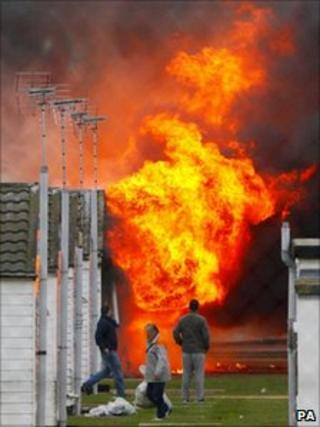 A Sussex open prison where a New Year's Day riot caused £5m damage has greatly improved in the past two years, inspectors have said.
Inmates set buildings alight after the authorities lost control of Ford Open Prison in Arundel on 1 January 2011.
Chief Inspector of Prisons Nick Hardwick said the disturbance happened soon after the jail's last inspection.
That inspection found Ford was failing to deliver its resettlement role, but since then it had improved, he said.
Mr Hardwick said the earlier inspection also found that trust at the prison was in short supply - but relationships between staff and prisoners had since been transformed.
Mr Hardwick said managers and staff at Ford had turned around the prison, which holds about 500 men.
He said Ford now compared well with other open prisons and overall provided a safe and decent environment.
Michael Spurr, chief executive of the National Offender Management Service, said changes made at Ford had created a "safe, decent and purposeful regime".
Riot police
He said improvements had been made by tightening security procedures, tackling drug and alcohol use and reducing the number of absconders.
The inspection report also found individual complaints were well-managed, prison staff co-operated effectively, and more prisoners were being allowed to work outside the prison,
However, inspectors raised concerns that some single cells used for two prisoners were too small, black and ethnic minority prisoners were less likely than white prisoners to be released or have access to work, and the risks some prisoners posed were not properly assessed.
Last month, a Ministry of Justice report found the riot was partly triggered by a decision to breathalyse inmates on New Year's Eve.
Five staff on duty were overpowered and retreated to the gatehouse, leaving prisoners unsupervised.
Riot police were called in before authorities regained control.
Five prisoners were jailed for offences including prison mutiny and violent disorder.