Brighton and Hove 20mph speed limit plan passed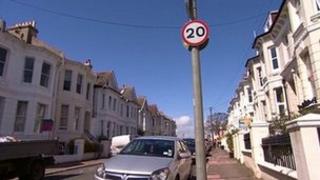 Plans to introduce a 20mph limit from 2013 on 500 streets in Brighton and Hove have been passed.
The new zones, which exclude major roads and arterial routes, will be introduced over a three-year period.
The council, which is led by the Green Party, passed the plans which cover most residential and shopping streets, on Tuesday.
It believes the changes will create a safer environment, reduce air pollution and encourage sustainable transport.
Most major routes such as the A259 seafront road and the Old Shoreham Road were not included in the proposals.
Councillor Ian Davey, transport committee chair, said: "Residents have been calling for this for years.. I am delighted to be building on this work and implementing them as soon as next year.
"Twenty-mile-an-hour speed limits aren't a panacea to our road problems, but they mean slower and steadier traffic in residential areas."
The proposals followed two pilot schemes around schools in Brighton and Portslade in January.