Brighton teenager's memorial tree saved by friends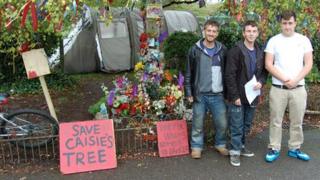 Brighton and Hove City Council has reversed a decision to chop down a tree used as a memorial to a teenager who died in a bus crash.
Friends of Caisie Muller, 17, camped next to the tree to protest because of plans to remove it during redevelopment of a park in Brighton.
However, the council has said it will now replant the tree, in The Level, with the help of her friends.
Caisie died in a minibus crash in Jamaica in August 2011.
Her father Gary Bamford, 49, his ex-partner Kathleen Rawlinson, 45, and her friend Talei Jones, also died.
'New flowers'
Thea Langford, 18, who has been camping by the tree for three nights, said her friend's ashes were scattered around the tree.
She met council officers earlier and was told of the new plans for the tree.
"I cannot wipe the smile off my face - we get to replant it and plant new flowers," she said.
"I've been camping down here for three nights now and we got 3,000 signatures so far. Everyone has been really helpful.
"We always used to meet around the tree and when Caisie died, as she was abroad, we didn't have anything to show it had happened."
'Emotional connection'
A council spokeswoman said the authority understood the "emotional connection" of the birch tree associated with Caisie.
She said: "The silver birch tree will be re-located in the sensory garden area of The Level where it will be surrounded by flowers and other plants.
"Caisie's friends will be fundraising to help towards the cost of moving the tree and will consider the option of erecting a memorial plaque.
"They will also be helping to plant the surrounding flower beds."
Work to move the tree is likely to start in March 2013.