Brighton beach volleyball demand soars
11 August 2012

From the section

Sussex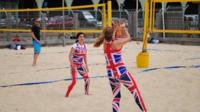 Demand for beach volleyball coaching at a Brighton venue has increased by 60% as a result of interest generated by the London Olympics.
Yellowave, on Madeira Drive, has taken on two extra coaches and added three weekly sessions to cope with demand.
"On an average weekend we are coaching between 150 and 200 people which is huge for a not very well known sport," said spokeswoman Elly Trimingham.
"People have said they have been inspired to get involved," she added.
"This summer hasn't been very good weatherwise, which has a huge effect on us, but in the last few weeks we have had numerous telephone calls and emails."
The venue, the UK's only beach volleyball centre of its kind, was an official 2012 training base and has six courts.
"There are a number of one-off courts around London and in other places but we are the only permanent complex," said Ms Trimingham.
She said that since the sport had been featured on TV coverage of the Games, more families had become interested.
"They have been saying that their kids have seen the sport on the television and want to get involved," said Ms Trimingham.
"It shows that the Olympics are inspiring young people to get involved in sport, which is excellent."