Bexhill attack witnesses named in YouTube police tape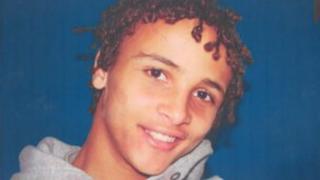 A police custody interview revealing the name of witnesses to an attack on a 15-year-old boy was uploaded to YouTube.
Ashley Dacosta, of Bexhill, 20, punched Mo Bourner in the town in October 2011, leaving him with severe brain damage.
He was jailed for six years for racially-motivated grievous bodily harm, at Hove Crown Court on 31 July.
Sussex Police said a short clip of a 20-minute interview with Dacosta was mistakenly uploaded the previous day.
Witness intimidation
Mo, who is now 16, suffered 90% brain damage during the attack, and the judge in Dacosta's trial said he will never lead a normal life or learn to walk again.
Dacosta, who pleaded guilty to the attack, was also convicted of perverting the course of justice along with a second man, James Carrick, 25, last week.
Carrick, of Manor Road, Bexhill, was also found guilty of witness intimidation and sentenced to two years in jail.
A spokeswoman for Sussex Police: "This particular clip was uploaded in error as it contains the names of several witnesses, which should have been edited out.
"The video was not listed on our public YouTube page but was accessible to those with the direct link that was released to the media.
"Having checked with the investigation team, there is not believed to be any risk to the individuals named, all of whom were already known to Dacosta.
"There were no court orders prohibiting their names being reported."
She added: "Nevertheless, Sussex Police's policy is to remove names when providing such footage to the media, which did not happen in this case due to human error.
"As such, we are in the process of contacting those mentioned to apologise and reassure that the footage has been removed."