Ringmer Kitten survives double shooting
1 August 2012

From the section

Sussex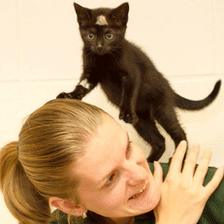 A six-week-old kitten which survived being shot in the head is recovering after an operation to remove two bullets lodged in its skull.
Tia was found by a member of the public near Ringmer in East Sussex with no sign of her mother and taken to Raystede Centre for Animal Welfare.
Vets say she had a lucky escape as she was so young her skull was still soft and the bone was not damaged.
Head of the centre, Nigel Mason, said: "This is wanton cruelty and torture".
"It is appalling, moronic behaviour by complete cowards," the chief executive said.
"I appeal to anyone who knows who did this to come forward and do the right thing by giving either ourselves or the police information so that a prosecution can be sought."
The kitten, which had two airgun bullets in her skull - one on top of the other - was found by a man near The Broyle in Ringmer.
Staff at the animal centre said he thought she was one of a number of feral cats living in the area and was very vocal and following him around.
Vets said the deeply embedded bullets only became noticeable after a few days as Tia's body rejected them.
The kitten, which has been fostered by centre staff, has a hole on the top of its head, but is expected to make a full recovery.
When she is a bit older, the centre hopes to rehouse her.