London 2012: Steve Ovett statue unveiled in Brighton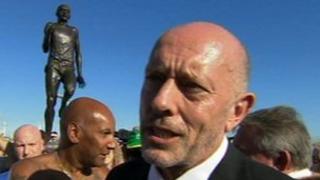 A new statue of Olympic gold medallist Steve Ovett has been unveiled in Brighton to celebrate the 2012 Games.
Ovett, who was born in Brighton and went to Varndean Grammar School, won gold in the 800m at the 1980 Moscow Olympics and bronze in the 1,500m.
The statue on Brighton seafront replaces one stolen from Preston Park.
"I have been completely blown away by the way the people of Brighton have reacted," said Ovett, who was at the unveiling of the statue.
Ovett, who was also given the freedom of the borough by the city council during his visit, added: "I am totally humbled by it because I did not expect anything like this.
"It's been an absolutely fantastic day."
The bronze sculpture in Preston Park was cut off at the ankle and taken from its plinth in 2007.
Part of the leg was found but police believed the rest might have been melted down and sold as scrap.
'Everybody is buzzing'
Brighton-based artist Peter Webster made the new statue based on the remaining pieces from the original, working with researchers in 3D technology at the University of Brighton to help recreate the design.
Ovett dominated middle-distance running along with rival Sebastian Coe, now London 2012 chairman Lord Coe, in the late 70s and early 80s.
John Smith, former head of PE at Varndean, said Ovett had shown outstanding promise from a very early age.
"Records began to tumble wherever he took part from 13 or 14 onwards.
"It was something that everyone around him had never seen before and it came as no surprise that his success came so early and it kept on coming."
Ovett, who now lives in Australia, said the London Games would have a huge impact.
"Just go through London now and everybody is buzzing," he said.
"The whole city is waiting for the start to enjoy it and to carry on perhaps afterwards.
"It's a legacy Games - that's what Sebastian wanted and hopefully that is what it will become.
"It will inspire other people to take up sport or get involved with sport, even if they don't take part, and enjoy life a bit more."