Steve Coogan not guilty of speeding on Hove seafront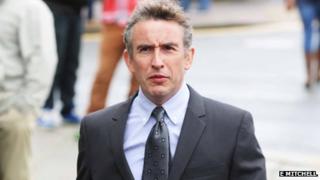 Comedian Steve Coogan has been cleared of speeding after it emerged a friend was driving his Range Rover when it was caught doing 39mph in a 30mph zone.
Mr Coogan was accused of failing to tell police who was behind the wheel of his 4x4 when it was clocked in Hove on 12 October.
The 46-year-old comic told Brighton Magistrates' Court it had "slipped my mind" that his friend was driving.
If found guilty he could have been banned from driving.
Mr Coogan, who created Alan Partridge and has appeared in several big-budget movies including Night at the Museum and Tropic Thunder, told Brighton Magistrates' Court he loans his vehicles out to friends and family on a "pool basis".
He said at the time of the speeding offence he was on the telephone to the Guardian newspaper dictating an article and had later made stringent efforts to find out who was the driver.
He was cleared after the magistrate said the case against him had not been proved beyond reasonable doubt.
Brighton Magistrates' Court was previously told a six point penalty for Mr Coogan would have triggered a driving ban.