Police re-route anti-fascist march in Brighton
2 June 2012

From the section

Sussex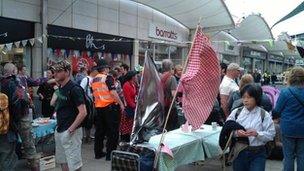 Anti-fascist protesters holding a march in Brighton have been stopped by police from entering an area where right-wing supporters were gathered.
The march was re-routed in North Street and other roads were closed for a time.
Sussex Police had warned of disruption in the city after nationalist-affiliated groups indicated their intention to meet up and socialise.
A group of about 30 "confrontational" nationalists were later escorted to the railway station and told to leave.
Three arrests were made from among the group for racist chanting, police said.
Meanwhile, a separate street party-style gathering was held in Churchill Square by about 75 UK Uncut supporters.
Across the city a number of people have been arrested on suspicion of possessing drugs and public order offences.
Mounted police have been on the streets as part of Sussex Police's strategy to cope with an "exceptionally busy" four days in the city.
Fatboy Slim
Some police leave was cancelled and reinforcements drafted in from other forces.
Hundreds of community events are being held to mark the Queen's Diamond Jubilee weekend.
DJ Fatboy Slim, AKA Norman Cook, is playing two gigs at Brighton and Hove Albion FC's new Amex stadium.
About 20,000 people were expected at each concert, on Friday and Saturday night.
On Monday, supporters of anti-war group Smash EDO have announced plans to hold a march starting in North Street and ending at Hove Town Hall where they will present a petition.
"For Sussex Police this is going to be an exceptional weekend with lots of people coming to the city for different reasons and hoping to enjoy the Jubilee," said Ch Supt Graham Bartlett.
"We have got a lot of officers across the various events and I am very confident that we will have a very successful outcome."