Brighton councillor Ben Duncan sorry over rape tweet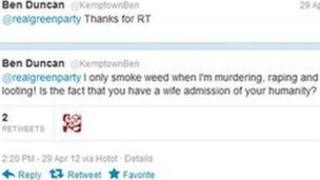 A senior Brighton and Hove city councillor who tweeted that he only smoked cannabis when "murdering, raping and looting" has faced calls to resign.
Green Party councillor Ben Duncan made the comments on Twitter in a discussion about cannabis cafes.
He has since apologised for mentioning rape in a "light-hearted" way.
However, the Labour group has called on Mr Duncan, who is the Green-led council's cabinet member for community safety, to resign.
Gill Mitchell, leader of the Labour group, said the comments were "extremely ill judged" and he should be removed from any position of responsibility.
"Ben Duncan should think about the wider effect of his statements and for him to make light of the serious crime of rape in this way is plain wrong," she said.
Mr Duncan, who stood as the Green Party's candidate in Brighton Kemptown in the 2010 general election, said: "I apologise unreservedly for mentioning rape in what was meant to be a light-hearted, ironic tweet.
"I understand that this may have caused distress and I'm sorry."
Council leader Bill Randall said the remarks about rape were in "bad taste" and he was pleased with the apology.
However, he said calls to resign were "opportunistic".
"Ben has done a great deal of good work as a councillor, particularly for the neighbourhoods and communities of Brighton and Hove, and it is wrong to take advantage of his momentary lapse of judgement," he said.