Chichester church metal theft insurance claims treble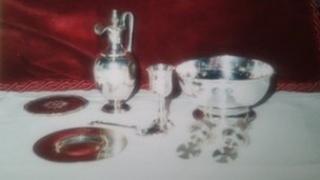 Insurance claims following metal thefts from churches in the Chichester Diocese have almost trebled in three years, the BBC has learned.
In 2011 there were 53 claims for metal thefts in the diocese, which covers most of East and West Sussex, compared to 19 in 2009.
The Church of England said it was introducing new security measures.
St George's Church, in Brighton, was burgled on Monday and silverware worth more than £10,000 was stolen.
Ecclesiastical Insurance, which insures 97% of Anglican churches, said that the number of claims in the diocese in 2010 was more than double that of 2010 when 26 claims were made.
Price of silver
Kevin Thomas, from the Ecclesiastical Insurance company, said: "There are certain actions churches can take to reduce the risk of thefts occurring, it's not just about alarm systems and CCTV systems."
He said the rising price of silver had encouraged the spate of thefts and churches could consider putting substitutes on show instead of valuable items when they were not being used for services.
The Venerable Philip Jones, Archdeacon of Lewes and Hastings, said: "If valuables are on view there is always the temptation.
"The desire always, is to keep a church open whenever possible. Churches are living buildings, not museums and we would want the house or prayer, the house of God, to always be available."