Sussex Police defend handling of Brighton nationalist march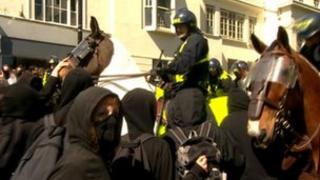 Police have defended their handling of an annual St George's day march through Brighton which was met with violent counter protests.
About 140 people took part in March for England on Sunday. They were met by about 400 anti-fascist protesters.
Two police officers suffered head injuries after bottles were thrown at them and three people were arrested for public order offences.
Supt Steve Whitton said a "strong police presence was necessary".
Mounted police were drafted in to maintain calm and several horses suffered superficial injuries.
A police spokeswoman said batons were drawn on several occasions to protect officers and members of the public.
'Nazi salute'
Louise Purbrick, who was part of the anti-fascist protest, said she did not see any missiles thrown by the counter protesters and police forced the march through with horses.
"There were hundreds and hundreds of people in unity standing against a racist march and the facilitation of police who allowed it to go through the city," she said.
However, Matt Silva, from March for England, said the level of violence against the marchers was "appalling".
"We had three young girls aged between eight and 13 hit by bottles and coke cans," he said.
"There were plates thrown at us - you name it, it was thrown."
He said there was one man caught doing a Nazi salute but he was promptly thrown off the march by stewards.
"We don't need counter protesters to get rid of Nazi scum, we're quite capable of doing that," he said.
'Fair policing'
Mr Whitton said police were concerned there were some people whose intention was not to peacefully protest.
He said: "We were able to restrain these groups and individuals with a firm, robust but fair policing response, but this did require a major police presence at several points.
"This event is an example of the way the police service must professionally and objectively balance the competing and lawful rights of groups who are opposed to each other.
"Groups have every right to express their views peacefully in a democratic society, and it is our job to help ensure that they can do just that."