Bexhill soldier who risked life for Afghan comrade honoured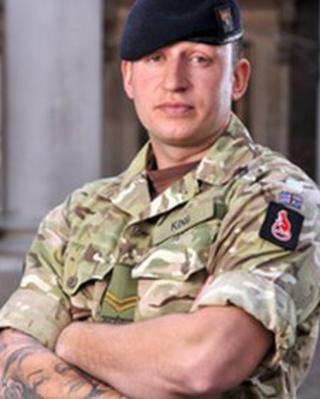 A soldier from East Sussex who risked his life to save a wounded Afghan soldier is to receive a mention in dispatches for gallantry.
Cpl Robert King, aged 26, of the 9th/12th Royal Lancers based in Germany, twice ran through enemy fire to treat and evacuate the soldier.
He is among 131 service people honoured for actions between April and September last year.
The wounded Afghan soldier had been shot in the chest during a patrol.
It happened in the Yakchal area of central Helmand.
'Exceptional courage'
Cpl King, from Bexhill, sprinted 20 metres of open ground to reach the fallen soldier, giving life-saving first aid before a medic could join him.
Unable to use his radio, Robert then crossed 50 metres to relay the details about the soldier's condition to get the correct medical support and organise a stretcher party.
The Afghan soldier had been shot through the stomach, with an exit wound visible through his back.
"I could tell it was serious when I reached him, but I didn't doubt he would recover when we got him on the evacuation helicopter," said the former Bexhill High School student.
The Afghan soldier spent a month in intensive care before being released.
Cpl King's citation concludes: "King displayed exceptional courage, outstanding professionalism and impressive coolness under fire.
"He was prepared to risk his own life to treat and evacuate a wounded Afghan soldier.
"His compassion towards his Afghan partners on that day had a profound impact on them."