Gatwick Airport power cut leaves luggage grounded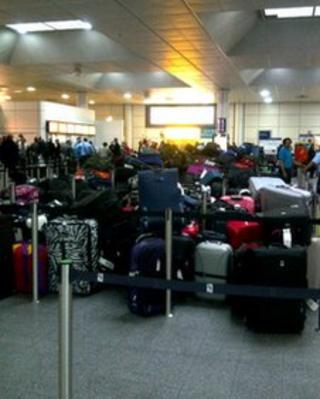 A power cut at Gatwick Airport has disrupted luggage carousels, causing some flights to leave without passengers' bags.
The power cut about 03:30 GMT affected the North terminal baggage handling system and delayed some flights.
Extra staff were called in to move bags manually before engineers got the belts working again at 10:30 GMT.
Passengers were advised to contact their airline about their bags on arrival at their destinations.
'Completely backlogged'
A spokeswoman for the West Sussex airport said a fault in an electricity substation had caused a series of power cuts but electricity was restored quickly.
Charter flights to some destinations were held back to allow bags to be loaded. Twelve flights were delayed for two hours, and one for three hours.
Among passengers affected were Britain's Got Talent finalists, electronic string quartet Escala.
The band had to fly from Gatwick for a concert in Portugal on Saturday night without their luggage.
"All our luggage did not make it on to the flight, including the equipment for the concert, required for our show tonight," said band member Nick Warren.
"I have my laptop as a back-up, and we carried our instruments as hand luggage, so our concert will still go ahead.
"However, we have to go shopping as all the girls' outfits were in their suitcases."
Loki, a magician travelling to the Caribbean, told the BBC the North terminal check-in area was "completely backlogged with luggage".
"Apparently there was a power surge which knocked out the baggage belts and information boards.
"The announcements and computer systems are working.
"I left my bag in a pile with other bags. As far as I'm aware they'll be put on our flight."
'Bags not loaded'
BBC journalist Beckie Williams, who flew to Jersey on a British Airways flight, said it took a long time to get through Gatwick.
"When we arrived at Jersey airport we were told our bags had not been loaded on to the plane," she said.
"We have been told our bags will hopefully be delivered on the next flight but we do not know for sure."
Meanwhile Gatwick Airport said extra staff had taken cages of luggage out to aircraft.
Spokeswoman Caroline Thorpe said luggage left behind would be flown to destinations on later flights.
She said 148 flights were scheduled to leave on Saturday, involving 22,500 passengers. A total of 2,000 bags were left to be forwarded on to the next available flight.
Staff had largely cleared the backlog by early afternoon, but there were still some minor delays.