Hastings Blue Reef Aquarium carries out fish stock take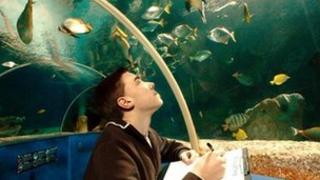 The annual stock take of an aquarium in Sussex has started being carried out over the weekend.
Stingrays, mudskippers and lionfish have all been counted at Hastings Blue Reef Aquarium.
Staff have said that during 2011 there had been a large number of new births, including baby sharks, seahorses and jellyfish.
Visitors have been encouraged to help staff count the fish, with the most accurate children winning prizes.
Chris Ireland, from the aquarium, said: "Traditionally we have always done an official check on the aquarium's stock numbers at the start of the new year."
He added: "The shark and rays are usually fairly easy to count, although there are a number of species that like to spend much of their time either hidden among the rocks or under the sand."