Fake sheep put behind bars to stop driver confusion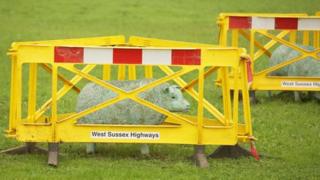 Six green plastic sheep on a West Sussex roundabout have been put behind bright yellow safety barriers to stop drivers thinking they are real.
The fake flock was installed at the junction on the A283 in Shoreham at the end of November to reflect the South Downs National Park status.
West Sussex County Council said the sheep had also been painted green to stop drivers thinking they were real.
But it said it was working with the sponsor on a long-term solution.
'Concerns'
A spokeswoman for West Sussex County Council said: "The County Council has a scheme where companies can sponsor a roundabout by paying for maintenance and improvements.
"There are many schemes across the county. For larger roundabouts, such as A283 Shoreham, we expect a feature such as a sculpture or enhanced planting to be provided."
She added: "They are bright green so they are not mistaken for the real thing. However, because some motorists have expressed concerns that the sheep are real, temporary roadwork barriers were placed around them two weeks ago.
"We are discussing a long-term solution with the sponsor."
The council said the cost of the roundabout schemes were paid for by sponsors.