Newhaven beach battle heads to High Court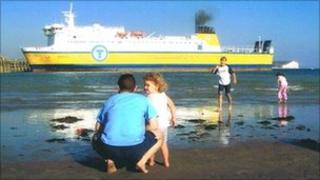 The company that owns Newhaven's West Beach is challenging a decision to grant it village green status.
Newhaven Port and Properties closed the beach three years ago, saying it was too dangerous for the public because of high waves and crumbling walls.
But East Sussex County Council agreed last year to register the beach as a village green and give local residents the right to use it.
The company is asking the High Court to quash the decision.
It said it had always been clear that the beach, which is covered at high tide, was a working area of the port.
Newhaven Town Council pressed for the beach to be reclassified as part of a campaign to get the sands reopened for public use.
'Peaceful enjoyment'
In order to qualify for village green status, it had to show the stretch of foreshore had been used by residents for "legitimate sports or pastimes" for at least 20 years.
People produced photographic proof of people fishing, walking, riding their bikes and playing cricket on the sands when the tide allowed.
The county council agreed to register the sandy beach as a village green following a planning inquiry in July 2010.
Charles George QC, appearing for Newhaven Port and Properties, said the registration of a tidal beach as a village green was "absurd".
He said West Beach was covered by the sea for 42% of the time and there was no public right of access as required for a village green.
Speaking outside the High Court, deputy town clerk Jacky Cole said residents were "outraged" when the beach was closed.
She said: "It fulfils exactly the same functions as a village green and has all the local ingredients and is very suitable for families with young children.
"Just because it is a piece of sand rather than turf does not mean it doesn't."