Whale watchers gather in Hove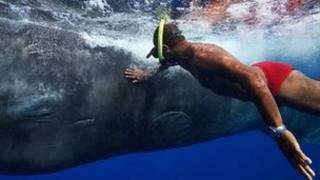 About 4,000 people from around the world were expected at an event exploring humans' fascination with whales and dolphins.
WhaleFest, being held on Saturday and Sunday at the Hove Centre, was bringing together conservationists, divers and whale and dolphin experts.
Organiser Ian Rowland said the Sussex venue had a historical poignancy.
The International Whaling Commission signed the first moratorium on whale hunting in Brighton in 1982.
"You could say Brighton is almost the centre of the world of whales and dolphins," he said.
"They took the decision to ban commercial whaling at the Hilton Hotel.
"It is still lingering on in Japan, Iceland and Norway but the world turned at that point in Brighton."
He said it was difficult to measure the impact of the decision made in 1982.
"Take the blue whale for example," he said.
"We know that back in the 19th Century there were probably 400,000 in the world - now 10,000 to 12,000.
"It's a fraction of what it used to be, but we see little recoveries in the numbers and you have to take heart at that."
Sussex-based charity British Divers Marine Life Rescue was among conservation groups leading workshops over the weekend, explaining why whales and dolphins become stranded on UK beaches.
Stars of the whale and dolphin world were also be on hand, including self-styled "whale whisperer" Andrew Armour, who developed a bond with an injured 32ft sperm whale which approached him while he was diving in the Caribbean.
There was also a full-size replica of a six ton killer whale on show.
Mr Rowland said it was an "awesome" experience to see a whale up close.
"So many people have never had the chance to see one so we want to tell people all about whales," he said.