Bid to restore Titanic musician's plaque in Eastbourne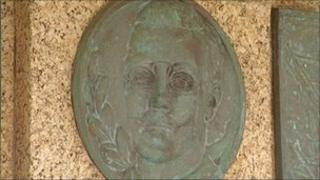 An Eastbourne man is trying to raise money to restore a plaque dedicated to a musician who died on the Titanic.
John Wesley Woodward, who lived in the town, was playing cello for the Titanic's orchestra the night it sank.
Peter Goldsmith is fundraising to have the memorial restored.
"Apart from helping the ladies and children into the lifeboats, he stayed on the deck and he played with the orchestra until the ship went down," said Mr Goldsmith.
A plaque in Mr Woodward's honour has been displayed at the Eastbourne Bandstand on the seafront for nearly 100 years.
It shows a sculpture of his face plus words stating his self-sacrifice and devotion that night.
Councillor Neil Stanley, of Eastbourne Borough Council, said: "It's a piece of local history. It just needs to be cleaned up and made more legible.
"It needs to be waxed and relaquered and some of the stonework around it needs to be cleaned up as well.
"It's important that we do it now because of course 15 April next year is the centenary of the sinking of the Titanic."
Refurbishing the plaque will cost just over £1,000. A Titanic heritage group in the United States has agreed to give £400 towards the cost.